Our main goal with this years ACDC was to make the workday a lot easier for both the Pirate Planners and the Pirates itself. We had identified that the use of Finance and Operations standard functionality for both planning and Employee Self-Service is far from easy and user friendly to use. Therefor we decided to use these days to create this:
A Model driven app for the Pirate Planners to use when they plan for what raid what pirate should be on, based on the skills that pirate has. This Planner app receives all the data it needs regarding the raids/projects and the pirates with skill profile directly from F&O, so that they always have the up to date data to work with as this is crucial to be able to do the correct planning.
A Canvas app for the Pirates to use on their mobiles, where they can see and update their personal information while the app talks directly with F&O, accsess other information that is relevant for them that we have integrated into the app like your calendar and meeting, let you see where the Planners has booked you, an AI chat that can give you answers for whatever you want and more.
PowerBI reports showing what the Planners have planned for in the different raids and other relevant information.
And, to make it easier for you judges, here are the reasons why we think we deserve a lot of points in the different categories:
Excellent User Experience:
Our entire idea before the ACDC was that we wanted to create something that gives everyone that struggles with the user experience in F&O a better workday, every day! The solution we now have created will give all the Planners out there a new, innovative and very user friendly way to plan their pirates and other resources with the data that is already in place in F&O. And, for every pirate and other employee in the company, their experience with the brand-new mobile app for Self-Service, they difference from what they experience now in F&O is almost impossible to describe! This is so much more user friendly, cool and awesome that they will be amazed!
Most Extreme Business Value:
As we have said before, this work is not easy for companies using it today. We know that for example with planning, many companies have a excel sheet that they update manually with data from F&O to do raid/project planning. All of these companies will be thankful that we created this Model driven app these days, as it really will both save them time, make sure they always have the correct data to work with, and give the company a much better up-to-date overview over how their pirates and employees are booked the next weeks.
And if that wasn't good enough (to be honest, we first only planned to create the solution over, but we also wanted to do something very good for all the pirates, not just the planner), the Canvas app will give a huge business advantage to all companies using F&O! Even if they don't do Planning for their resources, they can of course still use the Pirate app for all their employees, where they can show and give the employees the possibilities to do everything they do in F&O as Self-Service today, and we can include whatever other data or solutions they use directly in the mobile app so that the employee gets all the information and possibilities they need in one place instead of having to go several places! And, the app will of course be teamed with the companies logo and colors, so that for the Employee, the experience will be that this is an app only for them!
Rock Solid Geekness:
When we are three low-code and two no-code pirates going to a Hackaton, then something we really wants to learn more about is code and Geekness. We have learned a lot and used react and Node.js as you will see in the solution under, and all the time we have spent drilling into how to use the data from F&O correctly in POwerPlatform… Phu, we now know a lot more about many more tables and data coming out from F&O and how we can use it than what we did before. And, that ladies and gentlemen, is rock solid geekiness in the ERP world!
Killer App:
The way all components in this solution is tied together, really is what makes it a Killer App! We have connected F&O to a Model driven app and to a Canvas app, and the canvas app updates data back in F&O. In addition to this, PowerBI collects data both from F&O and the Model driven app, to show the reports we want. We have also extended the Canvas app to have so much more information that is relevant for the Pirate (and remember, the canvas app also shows information from the Model driven app regarding how they are planned!). When all of this is connected in a solution we now only have used 3 days to build, yeah, this deserves a lot of point! If you haven't worked with F&O data in PowerPlatform before, then it's hard to know, but this not straight forward.
Screenshoots of the Pirate Planner app and the technology used to fill it with data (with explenations under the pictures):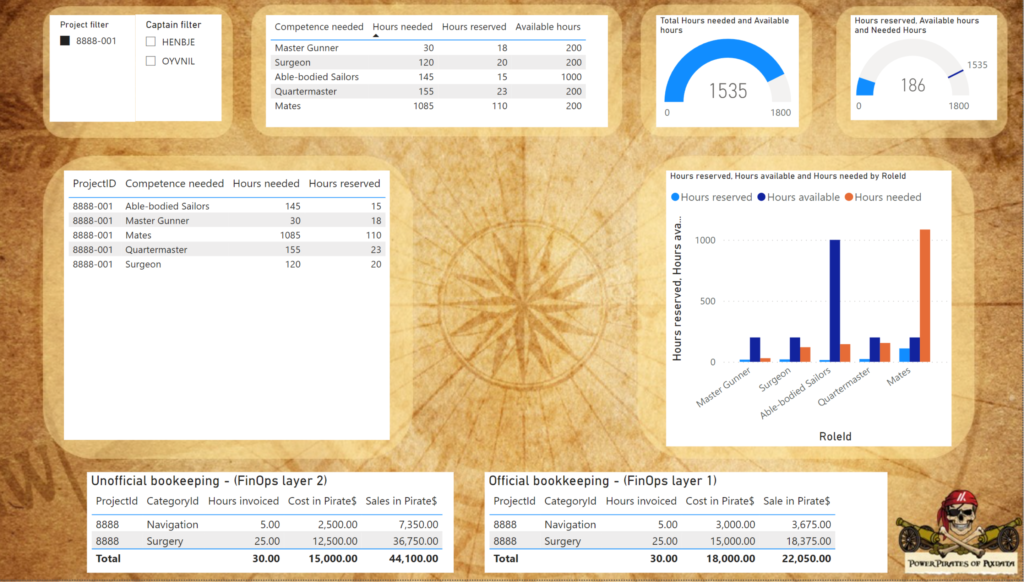 Screenshots of the Pirate app and the technology used for that app (with explenations under the pictures):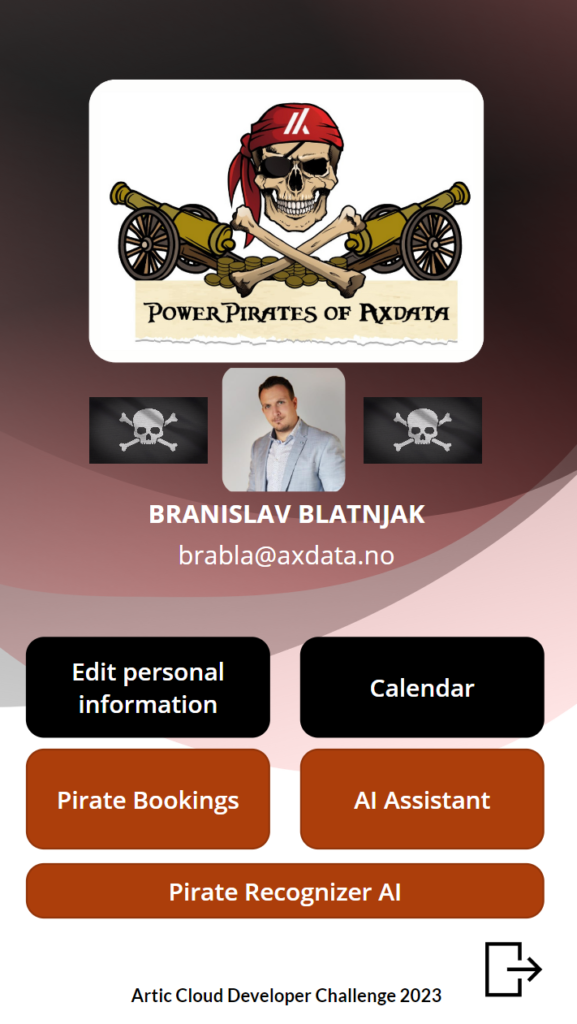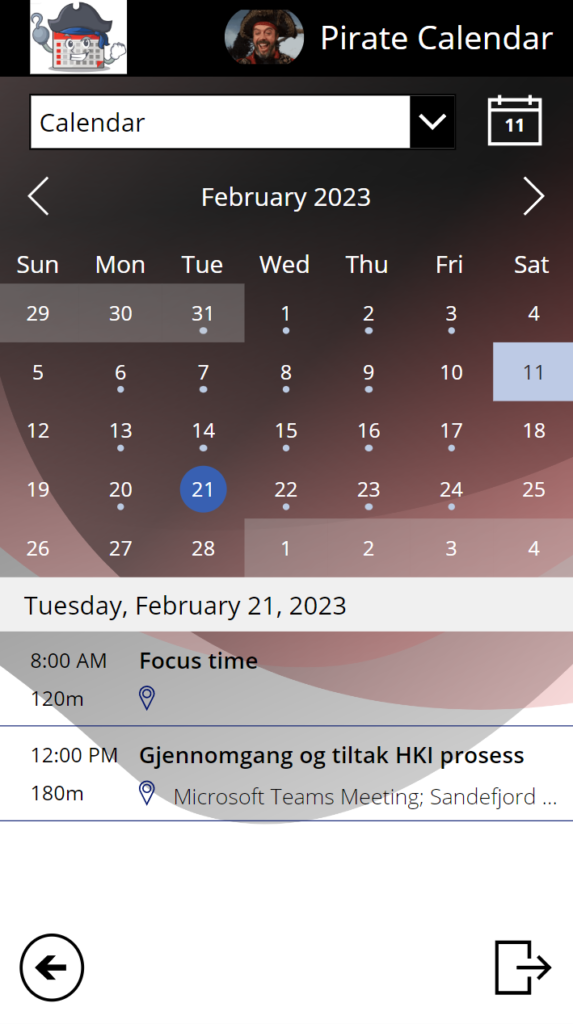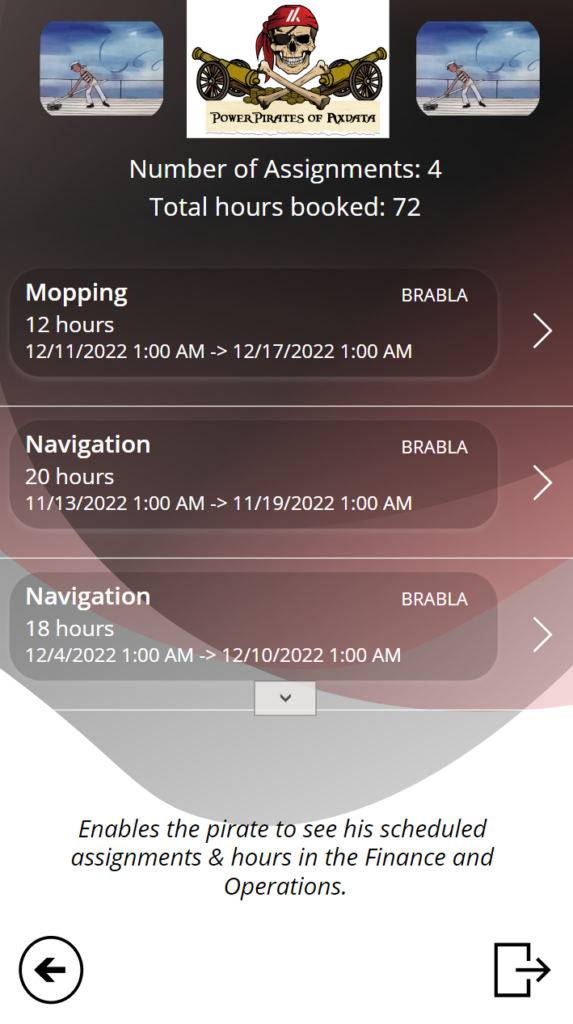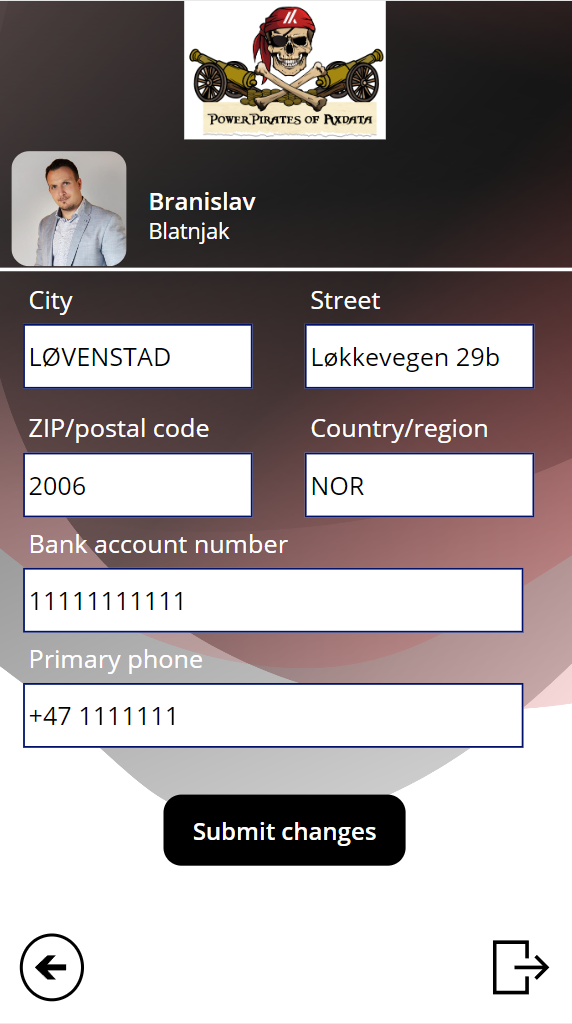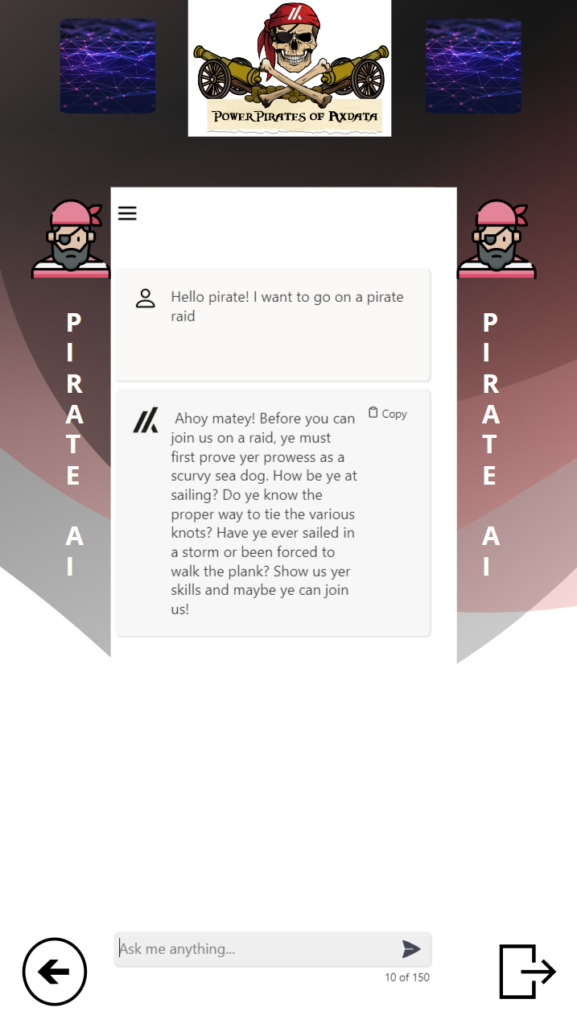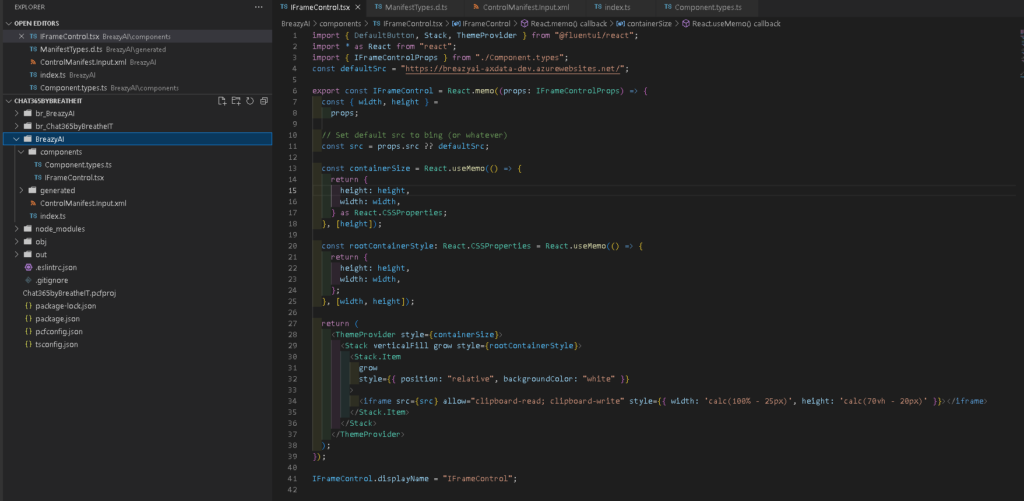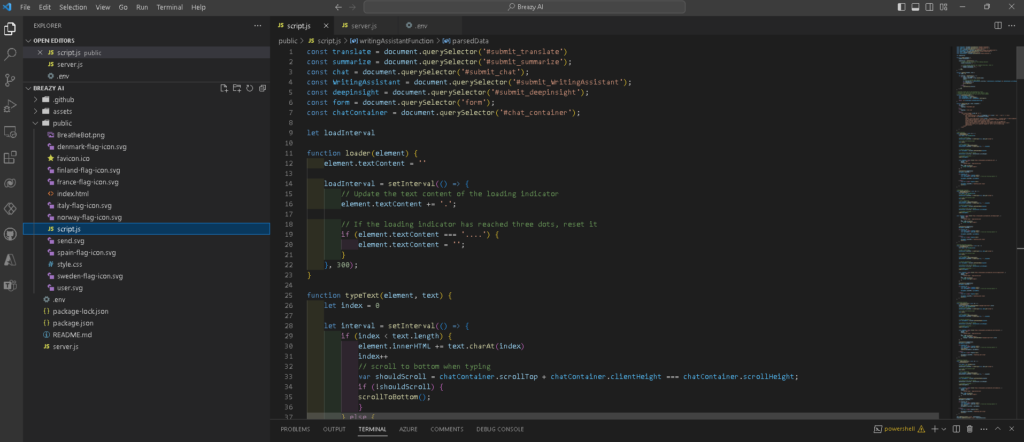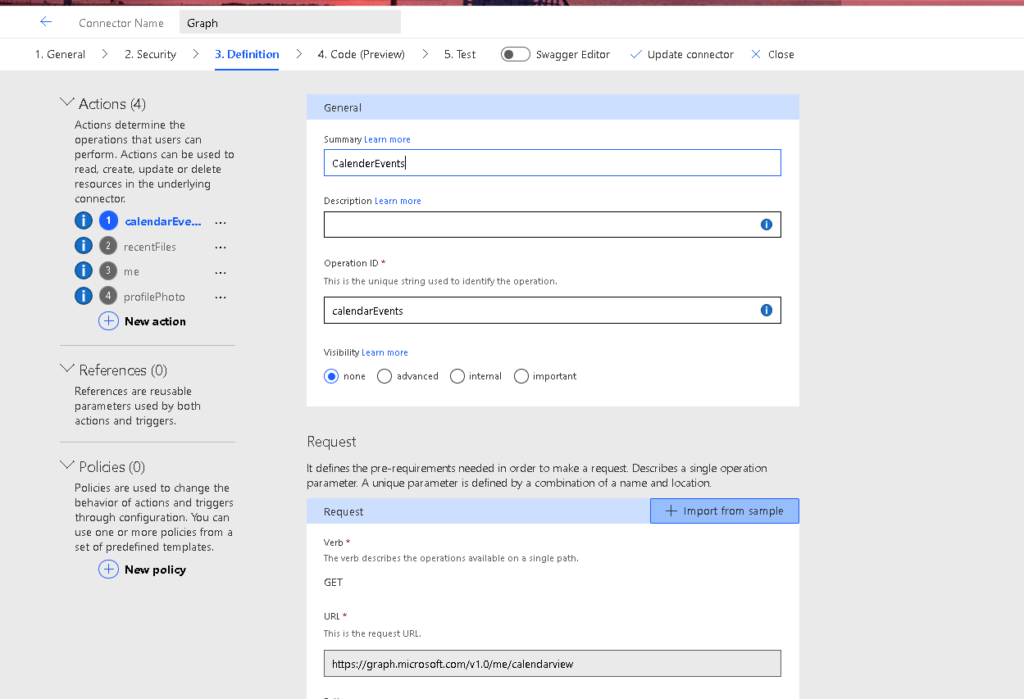 And what has this even given us?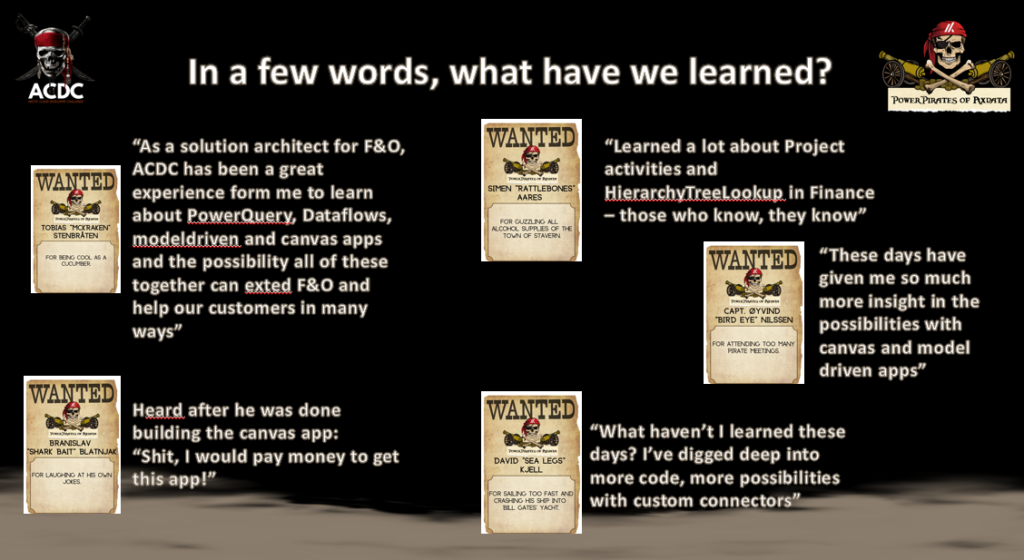 Why we have clamied the badges we have in this post:
ACDC Craftsman: For the entire solution, how it all is connected and works!
Dash it out: The PowerBI report for the data fra F&O and model driven app
Client side salsa: For the OpenAI embedded chat using react and node.js
Retro: For using PowerQuery to collect data from F&O
Feature bombing: For this fun screen in a canvas app that gives you a lot of features at the same time: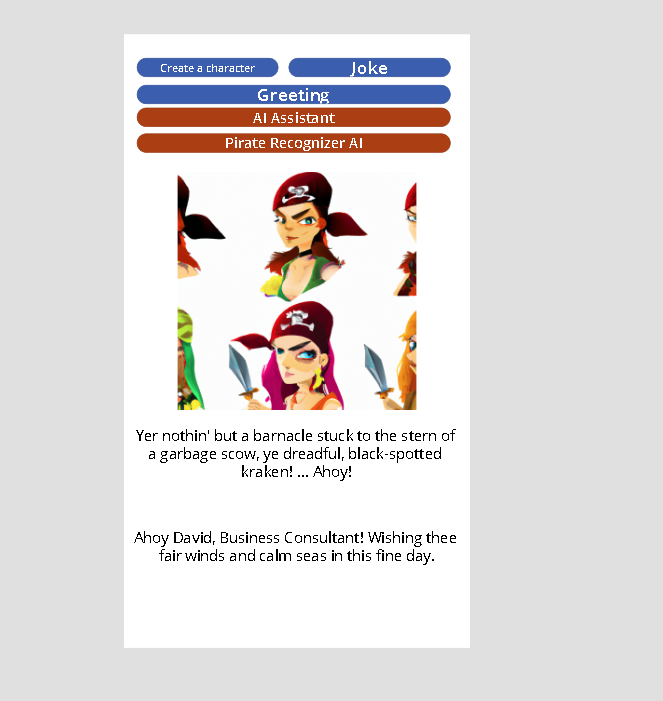 Thank you all for an amazing event!! This has been so much fun and we will definetly be back next year!