TMNT Live in the sewers under Manhattan, fighting crime whenever they need to protect the city. To be efficient in their crime fighting activities they need help from citizens reporting status around the city, and they need to be aware of things that happen BEFORE they actually happen. They have contacted Point Taken to find a solution for fighting crime and connecting with the citizens of New York.
After fighting crime, any hero needs food to survive. As we say in Norway "Uten mat og drikke, duger helten ikke". No real way to translate it, but you need to eat! 🍕🍕
While living in secret it is important to know when the food is delivered without blowing their covers!
This is why we are making a 3 part solution
Step one is fighting crime reactive, and a proactive. Reactive behavior is when the citizens already know what the problem is and they are reporting 911 calls all around the city. The proactive approach is when digital solutions can report suspicious activity before it actually happens.
After fighting crime all of the heroes are hungry. We will create a pizza ordering app for the local pizza shop. A real New York Slice! The obvious order being a double of everything pizza😂
The last part is the pizza delivery process where TMNT need to stay in hiding while receiving pizza. We will create a solution for pizza delivery reporting, and quality checking the pizza when delivered at the secret location with sensors.
Original Drawing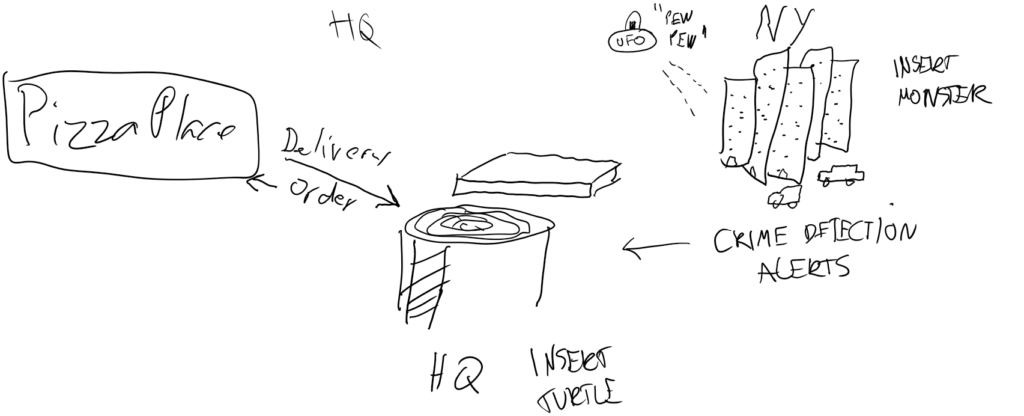 "Pimped Drawing"